Rene Sanchez-Mejia, MD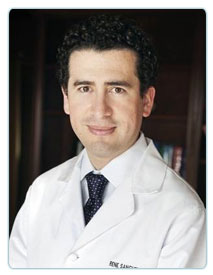 Curriculum Vitae
Dr. Rene Sanchez–Mejia MD is a Diplomate of American Board of Neurological Surgeons, Fellow of American Association of Neurological Surgeons, and researcher who subspecializes in the diagnosis and treatment of neurovascular diseases. He has dedicated his career advancing the field of neurovascular disease. Hein obtained extensive training in stroke, neurovascular, and endovascular neurosurgery to ensure the best care for his patients, offering a broad and modern approach to neurosurgical medicine. He has been practicing Neurological Surgery since 2002, with over 15 years of experience, delivering innovative comprehensive medical treatments and specialized invasive neurovascular procedures. He has also educated and mentored countless students, trainees, and healthcare providers in stroke and neurovascular disease with innumerable presentations at meetings and conferences. Lastly, he has contributed to the medical literature with sentinel publications in stroke and neurovascular disease with over 30 publications, over 1300 citations, and high h-index for quality of research.
Dr. Sanchez–Mejia obtained his medical degree with honors from Harvard Medical School in 2002, completed his postgraduate residency education in Neurological Surgery at the University of California, San Francisco where he graduated in 2008, after which he pursued a subspecialty fellowship in Endovascular Neurosurgery at Massachusetts General Hospital, concluding his training in 2009.
He joined Scripps Clinical Group in 2009, serving for 9 consecutive years as Head of Cerebrovascular and Endovascular Neurosurgery, affiliated with Scripps Clinic, Scripps Memorial Hospital, and Scripps Green Hospital in San Diego, California. Dr. Sanchez-Mejia recently joined Neurosurgical Medical Clinic, where he is Head of Cerebrovascular and Endovascular Neurosurgery. He maintains affiliation with and treats patients at both Scripps Health and Sharp Health hospitals.
Voted one of San Diego's Top Doctors in 2015 by San Diego Magazine, Dr. Sanchez–Mejia is considered a distinguished Neurosurgeon among the medical community, being receptor of multiple awards throughout the years, all of which represent his dedication to providing quality, compassionate, and patient-centered care. He was also granted the Humanitarian award by Paradise Valley Hospital in 2011 for providing excellent care to the underserved population of neurovascular disease patients in southern San Diego. Granted the National Research Service Award and the Clinical Research Award from the National Institutes of Health during 2006-2007, Dr. Sanchez is committed to apply his expertise and knowledge, with the objective of contributing to research, striving to provide continuous education to the medical community, healthcare providers, patients, and family members.