Kenneth Ott, MD, FACS, Emeritus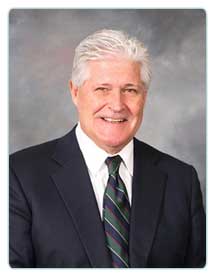 NMC pays tribute to Kenneth H. Ott, M.D., F.A.C.S. for his long medical career by bestowing upon him the status of Physician Emeritus.
Dr. Ott practiced neurosurgery for 43 years in San Diego, joining NMC following his residency at the Massachusetts General Hospital, Boston in 1976. Prior to residency he attended Yale University and U.C. San Francisco School of Medicine.
Dr. Ott has been the Chief of the Divisions of Neurosurgery at Scripps Mercy Hospital and Scripps Memorial Hospital, La Jolla. He developed the Gamma Knife Radiosurgery program at Scripps Memorial Hospital, La Jolla in 1994 and a movement disorders surgery program in 1999. Dr. Ott has been the Medical Director of the San Diego Gamma Knife Center, the Chief of Neurosurgery at Scripps Memorial Hospital, and the President of the California Association of Neurological Surgeons.
Dr. Ott's areas of special interest were minimally invasive forms of neurosurgery such as outpatient microlumbar discectomy and anterior cervical discectomy; Gamma Knife Radiosurgery, as well as Cyberknife and Brainlab Novalis radiosurgery. He had much interest in image-guided and frame-based stereotactic surgery; functional neurosurgery for Parkinson's disease and other movement disorders; endoscopic sympathectomy for hyperhydrosis as well as pituitary surgery; brain tumor surgery was a significant portion of his practice.
Dr. Ott retired from NMC in December 2019. We thank you for your service and dedication during your working years at NMC.