Richard Ostrup, MD, FACS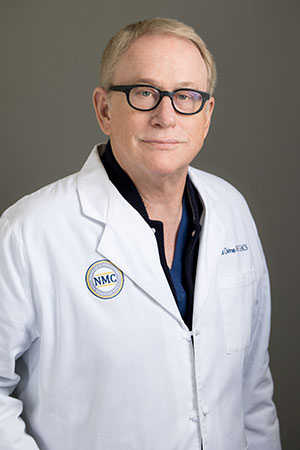 Dr. Ostrup has served as the chief of Neurosurgery at both Sharp Memorial Hospital in San Diego, Sharp Grossmont Hospital and Scripps Memorial Hospital in La Jolla. He also served as the chief of surgery at Sharp Memorial Hospital. He is the co-inventor of the Camino Intracranial Pressure Monitoring Device. He was an unaffiliated neuro-trauma consultant for the San Diego Chargers and has a strong interest in sports neurosurgery, in addition to his interest in the spine, complex spine, brain tumors, and peripheral nerves. Dr. Ostrup has been voted one of the "Top Docs" as voted by his peers for the last 18 years by San Diego Magazine.
With more than 30 years in the field, Dr. Ostrup says that his primary job is to educate his patients, not to recommend surgery.
"Patients who come to see a neurosurgeon are not necessarily coming because they have to have an operation. They have a problem that the referring physician has identified, and my job is to evaluate them and make recommendations," says Ostrup, who adds that even after a recommendation for surgery is made, patients often need time to decide if that is what they want.
Many patients return in several months for an additional evaluation. "It's a process and my primary job is to provide patients with knowledge about their health problem. Surgery is alternative for some but not for everyone."
Should patients elect to have surgery, Dr. Ostrup has a strong history of excellent outcomes using contemporary surgical techniques.
Dr. Ostrup sees patients at our Convoy Street Office.
Dr. Ostrup has privileges at Sharp Memorial Hospital, Sharp Grossmont Hospital, Sharp Chula Vista Medical Center, Scripps Mercy Hospital, and Scripps Memorial Hospital, La Jolla.
Practice Manager:
Erica Ebert
Tel: 619-297-4481 x 104
Fax: 858-810-7307
Email: Erica@sd-neurosurgeon.com
Curriculum Vitae
Curriculum Vitae for Richard Ostrup, MD, FACS
Q & A with Dr. Ostrup
Questions and Answers with Dr. Ostrup
Media
Media for Dr. Ostrup
Patient Testimonials
Patient Testimonials for Dr. Ostrup