Vamsidhar (Vamsi) Chavakula, MD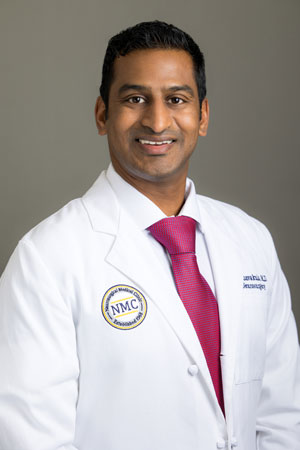 Dr. Chavakula received his B.S. with honors in Electrical Engineering and Biology from the California Institute of Technology in 2008. He graduated with his M.D. cum laude from Harvard Medical School in 2012. Dr. Chavakula did his residency in Neurosurgery at Brigham and Women's Hospital/Harvard and completed the program in June 2020.
Dr. Chavakula is board eligible through the American Board of Neurological Surgeons.
Dr. Chavakula's interests lie in the realm of understanding the neural basis for three-dimensional motion and complex hand movements for application in real-time control of robotic prosthetic limbs. Dr. Chavakula has a special interest in functional neurosurgery, including MR- guided Focused Ultrasound and Deep Brain Stimulation (DBS).
Dr. Chavakula has privileges at Sharp Memorial Hospital, Sharp Grossmont Hospital, Sharp Chula Vista, Scripps Mercy Hospital. Dr. Chavakula also has privileges in Fountain Valley at Memorial Care Orange Coast Medical Center for Focused Ultrasound procedures.
Practice Manager:
Jessica Rosario
(p) 619-297-4481 ext. 102
(f) 858-810-7303
(e) jessica@sd-neurosurgeon.com
---
Newsletters
---
---